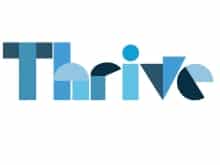 Thrive
Thrive is a creative program for adults with mental health difficulties, designed to boost wellbeing and increase confidence.
Having run for five years at Hive, Thrive is now running at different community venues around Bradford, supported by teams of volunteers. You can find more information about volunteering with Thrive on our volunteer page.
The Thrive Project is now completing its final phase as funding will end in December 2023; we will be delivering outreach activities with the support of our Thrive Volunteers in the last term and producing our final reports to funders. 
Individuals and support workers are encouraged to explore the options presented by our relaxed and supportive drop-in groups and classes. https://hivebradford.org.uk/courses/
We regret that there will not be any Thrive Project groups taking place at Hive in this final term as we focus on outreach activity with specific groups.
Please contact us for further information or to book a visit to our new temporary venue at St Peters Church, Moorhead Lane, and look out for news of our next successful funding bid by signing up to our regular newsletter.